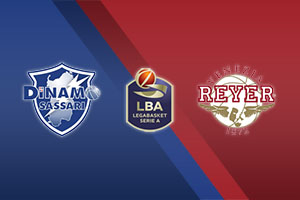 The third game of the exciting series will be played tonight in Sardinia. It's the quarterfinals of the playoffs of the Italian league, and Venezia leads 2-0. They have won the first two games at their home, taking advantage of the same number of "presents" that Sassari offered them. The Sardinians kind of gave away both Games 1 and 2, although being better for the most part.  They lost 92-91 and 83-78 and now have to up their game to survive the series. When you fail twice in the same, frustrating way, then you probably prepare your suitcases for a holiday…
In the two matches in Venice, Sassari got a difference of close to 20 points. However, they left the court empty-handed. "Let's go home to equalize the series", said coach Gianmarco Pozzecco after Game 2.  He has now returned to Sassari's bench after the 10-day penalty imposed on him by the Italian Basketball Federation.
Venezia's coach, Walter De Raffaele, spoke at the press conference about the passion and competitive spirit shown by his team in the second half of the first two games. It was then that Venezia managed to turn the game to their favour. Veteran guard Curtis Jerrells, who signed a few days ago until the end of the season, is likely to make his debut in Game 3.
Our prediction: Money Line – Dynamo Sassari Win