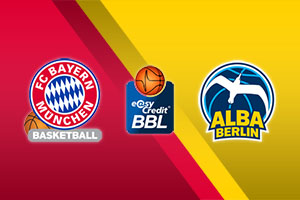 The final of the German Cup will take place today in Munich, at Bayern's home but without fans.
Andrea Trinchieri's Bavarians eliminated Ulm in the first semifinal, defeating the contenders in overtime 104-102. Their opponents missed twice on open shots for Bayern to get the ticket to the final! Bayern performed below expectation once again. They seem clearly affected by the elimination from Armani in the Euroleague playoffs, missing the chance to become the first German team to make the EL F-4! At the same time, the Bavarians spent more energy than Alba by playing extra time on Saturday. On top of that, Babb (SG, 11.1 points) is out again.
Alba proves to be in excellent condition. The Berliners looked ready for the final part of the season when the domestic titles will be decided. And they beat Gottingen 112-96 in the second semifinal of the German Basketball Cup. At some point in the game, they had some resistance from the inexperienced opponent. However, Alba scored the necessary big shots and won the game. All players are at the disposal of Aito Reneses.
The two final contenders are tied at 2-2 this season; in both the national competitions and the Euroleague.  But the last impression we have from the two fighting each other is the impressive 62-100 for Alba, only two weeks ago in the same arena that the final will be played at. Alba is a polynomial of the German Cup with ten conquests, including last year's trophy.
Our prediction: Alba Berlin +4.5 points