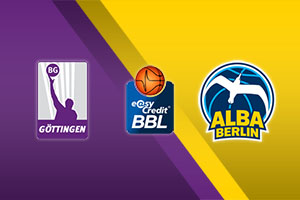 The Final – 4 of the German Cup is being held this weekend in Munich, at the headquarters of Bayern. We will review for you the second semifinal of the tournament between Gottingen and Alba Berlin. At the same time, the Bavarians will play in the first semifinal against a dangerous Ulm.
Gottingen had a very average season in BBL, finishing 12th with a 13-21 record. They have no experience in such conditions and situations, but in the Final-4, they will live their dream! From the team of the excellent Belgian coach Roel Moors, D. Booker (PG, 9 points, 8 assists), Luke Nelson (SG, 11.9 points, 4.5 assists), T. Odiase (C, 13.4 points, 6.4 rebounds), A. Dawkins (PF, 13.7 p.) And Lomazs (SF, 16.6 points, 6 rebounds) stand out.
Alba finished in the 2nd place of the BBL regular season (28-6, behind Ludwigsburg) and travelled to Munich determined to win the trophy. The team of the great Spanish coach Aito Reneses has an excellent roster compared to most German competition. Eriksson (SG, 12.5 points), Sikma (F, 9.6 points, 6.7 rebounds, 4.6 assists), Peyton Siva (PG , 10.5 points, 5.0 assists) and Giffey (F, 11 points, 3.3 rebounds) stand out. The Berliners have developed a character in recent years, especially in significant games where they usually keep their opponents' productivity at low levels. We expect them to do the same tonight.
Our prediction: UNDER 174.5 points