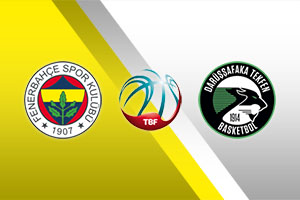 Fenerbahce (2nd in the regular season, 22-8 record) will host Darussafaka (7th in the regular season, 16-14 record) tonight at the "Ulker Sports Arena", without the presence of fans. This is the beginning of the quarterfinal stage of the playoffs of the Turkish league. The qualification is decided in two wins. If a 3rd game is required, this will be held at Fenerbahce's home.
After a failure in the EuroLeague playoffs this season – which was essentially due to the many problems they faced and more specifically due to Covid-19 – Fenerbahce is forced to fight and become the domestic champion. It might be the salvation they are looking for. The management of the club denied that there is a problem in their relationship with coach Igor Kokoskov. They are emphasizing the extension of their cooperation for next season also. There are no injury problems; however, as with any Turkish League match, the rule for five foreigners exists. Fener managed two victories against its today's opponent for the regular season.
Darussafaka has the 51-year-old Turkish coach Selcuk Emak on its bench since 2018. The team is led by the American guard Andrew Andrews (16.1 points), while Grant Jerrett (12.0 points, 6.0 rebounds), the American centre, is a worthy supporter. We need to mention that in the last 12 away games against Fener for the Turkish League, Darussafaka counts only one victory!
Our prediction: Darussafaka UNDER 77.5 points