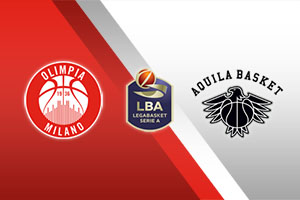 The Italian League playoffs start tonight. The 1st team of the regular season, Armani Milan (22-6), will host the 8th, Trento (13-15), at the Mediolanum Forum (without fans). Qualification is decided in 3 wins, with the first and second games of the series in Milan.
Armani is entering the playoffs as the absolute favourite to win the championship. Some think that Armani will inevitably think of the Final-4 of the EuroLeague simultaneously, with the event happening in Cologne in two weeks. Ettore Messina will not have at his disposal tonight the team leader, guard Malcolm Delaney (9.7 points, 3.1 assists). Veteran forward Luigi Datome (9.1 points, 3.0 assists) is also out with an injury. He didn't play during the last league match against Cremona either.
Trento started the year in real fashion, led mainly by American centre JaCorey Williams (18.2 points, 8.1 rebounds). However, they needed a great away win last Monday in Bologna (against Virtus) to enter the playoffs literally at the last moment. Coach Molin (a close associate of Messina at CSKA and Real Madrid) mentioned in a statement yesterday: "It's the first match for the quarterfinals series, and I want to show to everyone from Thursday already that we are capable of making a competitive series." Trento is fully lined up for tonight.
Our prediction: Trento UNDER 72.5 points