It doesn't seem that long ago since the 2014 FIBA Basketball World Cup started but we already have two teams in the semi-final. There were two hugely exciting matches played out on Tuesday, which sets the bar for the two quarter final games that are to come on Wednesday.
That isn't a concern for fans of Lithuania and USA though, who booked their passage into Thursday's semi-final.
Lithuania v Turkey 73-61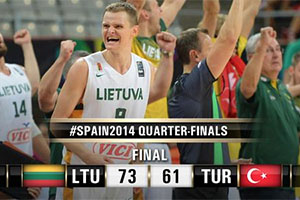 Lithuania were the first team to book their place in the semi-final, guaranteeing themselves a shot at a medal in Spain. It was a slow start from the Lithuanian side but with Renaldas Seibutis grabbing 19 points, they eventually worked their way into the game, and beyond their Turkish opponents. There may not have been a stand-out performer for the Lithuanians but the fact that so many key players chipped in made sure they ground out the win.
Jonas Valanciunas was able to claim a double-double as he grabbed 12 points and 13 rebounds, while two other players managed to pick up 13 points for Lithuania. Martynas Pocius and Darjus Lavrinovic both played their part in a victory which may not have seemed too obvious in the opening quarter.
Turkey had their chances
With just 13 points in the opening quarter, Turkey were leading by 5, although this seemed to be the spark that changed the game. Lithuania upped their game, outscoring Turkey by 10 points in the second quarter, turning a five point deficit into a 33-28 lead. The two teams were evenly matched in the third quarter before Lithuania sped away again in the final quarter, stretching the margin of victory to 12 points.
The main points man was Kerem Gonlum who grabbed 13 points and you may hear the Turkish team wonder aloud what might have been if Omer Asik was fully fit. The player was struck down with the flu, although he still managed to deliver 11 points and 10 rebounds in the game. This was impressive considering the circumstances, but it wasn't enough to keep Turkish FIBA World Cup hopes alive.
Today will be a day when Lithuania try to rest their tired legs and minds while working on strategies that they hope will topple the giant, because there is a mighty opponent waiting in the wings for Thursday.
USA v Slovenia 119-76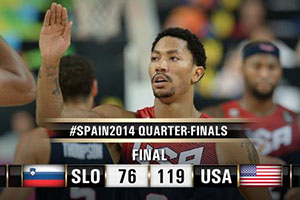 At half-time, this was a close affair and while not too many people were tipping a shock for full-time, there was some hope for a nail-biting encounter in the final quarter. As it was, the first half resistance was all that Slovenia could really muster with Team USA grabbing 70 points in the second half of the quarter-final.
Klay Thompson served up 20 points after coming from the bench and both Kenneth Faried and Anthony Davis delivered double-doubles for USA. There were also plenty of people saying this was the best that Derrick Rose had performed at the World Cup, with 12 points and 5 assists. Not only that but he looked lively at times, and it may be that Rose, and USA, are peaking at exactly the right time to take care of the two toughest challenges they are likely to face at the FIBA World Cup.
Slovenian hopes rested on Goran Dragic, and he managed to serve up 13 points while inspiring his team to keep fighting. There were only 7 points in the game at half-time but the USA then stepped things up a gear and Slovenia couldn't match them.
The first semi-final takes place on Thursday 11th of September
Before that, there is the small matter of two other quarter final matches being played on Wednesday 10th of September. These games are:
Serbia v Brazil
Spain v France
Both of these games are taking place in Madrid, and while many expect the Spanish side to brush past France, like they did in the group stages, the other game may be harder to call. Brazil should be the favourites, and they will be on a high after overcoming Argentina in the last round, but Serbia are more than equipped to give them a challenge. If there is one tie in the quarter-finals that it is up for grabs, it is likely to be this game.