Olympics 2016 Basketball Group Schedule
As we now know all of the teams taking place in the basketball tournament at the 2016 Olympic Games, we can now run through the full group schedule. All of the games are taking place in the Carioca Arena 1, Rio de Janeiro.
You'll notice that the two groups alternate which means that all of the teams in the same group play on the same day and then rest on the same day. This is better for the integrity of the groups and if you are following a particular team, you can alternate your attendance at the arena. Group A gets us underway on the 6th of August, play continues with Group B on the 7th of August, Group A resumes on the 8th of August before Group B plays again on the 9th of August and so the pattern continues until the groups are concluded.
Please toggle your mobile phone into landscape mode to see additional content.
Group A runs from the 6th of August to the 14th of August while Group B runs from the 7th of August to the 15th of August.
Group A schedule
Group A features two of the teams that came through the July qualification process so this was the group that was most up in the air until this week. The United States are virtually guaranteed to take the top spot but with four teams going through, there is still likely to be a lot of excitement and drama unfolding in this group.
You can also bet that no one is willing to completely write off the match against the United States just yet because if they have an off day, you want to be the team that can take advantage of it and at least push them hard. If nothing else, keeping the points difference down against the States could make all the difference in the final rankings.
6 August 2016
Australia v France 87-66
China v United States 62-119
Venezuela v Serbia 62-86
8 August 2016
Serbia v Australia 80-95
United States v Venezuela 113-69
France v China 88-60
10 August 2016
Serbia v France 75-76
Australia v United States 88-98
Venezuela v China 72-68
12 August 2016
China v Australia 68-93
United States v Serbia 94-91
France v Venezuela 96-56
14 August 2016
United States v France 100-97
Australia v Venezuela 81-56
Serbia v China 94-60
With the final game pitting the top two teams against each other, there may be a winner takes top spot scenario unfolding in Group A, which will provide another reason to keep an eye on the climax of this group.
Group B schedule
With the host nation, their fiercest sporting rivals and the best team in Europe all competing in Group B, this is a group that is going to offer up a great deal of competition and fire in August. Argentina and Spain look well placed to make it through to the knock-out round, but every team in the group will be of the opinion that they can make it through.
Much like with Group A, there could be a final day clash to decide who tops the group with Spain and Argentina going head to head,
7 August 2016
Brazil v Lithuania 76-82
Croatia v Spain 72-70
Nigeria v Argentina 66-94
9 August 2016
Spain v Brazil 65-66
Lithuania v Nigeria 89-80
Argentina v Croatia 90-82
11 August 2016
Brazil v Croatia 76-80
Nigeria v Spain 87-96
Lithuania v Argentina 81-73
13 August 2016
Argentina v Brazil 111-107 2OT
Spain v Lithuania 109-59
Croatia v Nigeria 76-90
15 August 2016
Nigeria v Brazil 69-86
Spain v Argentina 92-73
Lithuania v Croatia 81-90
Knock-out round
We've already detailed the schedule of the knock-out round and as there is nothing else that can be said about who will play in these games yet, there is no need to dwell too much on this stage of the competition for now. However, all of the quarter-final games take place on the 17th of August, the semi-final games take place on the 19th of August while the Bronze Medal match and the Championship game for the Olympic Gold take place on the 21st of August.
Quarter Finals
Australia v Lithuania 90-64
Croatia v Serbia 83-86
Spain v France 92-67
United States v Argentina 105-78
Semi Finals
Australia v Serbia 61-87
Spain v United States 76-82
Bronze Medal Game
Final
Serbia v United States 66-96
Futures Market for Olympic Basketball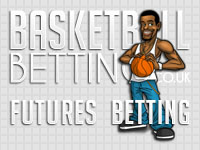 Bet365 have updated their Futures Market for the 2016 Rio Games and of course, Team USA are clear favourites, available at 1.071 for the tournament! This is unlikely to entice you in so you may decide that Spain at 13.00 or France at 15.00 is more attractive. Serbia are listed at 23.00, Brazil can be found at 29.00, Lithuania are at 34.00 and Argentina can be backed at 36.00.
Moving to the genuine outsiders, Croatia are listed at 51.00, Australia can be backed at 251.00, Nigeria are found at 301.00, as are Venezuela and the real outsiders are China, listed at 501.00.
On the opening day of the Group A action, the rank outsiders China take on the hot favourites USA so if you like watching basketball games between teams that are hugely mismatched, this could be the best way to get your Olympic basketball betting up and running this summer.