Olympic Women's Basketball Future Bets
The Women's 2016 Olympic Basketball tournament is upon us and if you want to bet on basketball, there are plenty of great options. The main bet is on who is going to take the gold medal in Rio but you'll find that there is a strong range of basketball betting options to choose from for the 2016 Games.
Please toggle your mobile phone into landscape mode to see additional content.
To win the tournament outright
If you are looking at placing a bet on who is going to win the 2016 Olympic Games Women's Basketball tournament, there is no value to be found in backing the favourites. This is because USA are the clear favourites and they can be backed at odds of 1.10. If you think that there will be an upset, the team most likely to cause the upset will be Australia and they are available at odds of 9.50.
After this, the odds start drifting out with Spain listed next at 17.00 and then France come in at odds of 23.00. Moving on from this point takes you to the hosts with Brazil being offered at odds of 29.00 and then Serbia coming in at odds of 34.00. Canada may be next to the USA but for basketball, they are quiet far apart as the odds of 41.00 for the Canadians indicate.
Turkey are the next option listed at 51.00 and then there is a huge jump out to Belarus who can be found at odds of 151.00. Up next is China at 201.00 which leaves the two rank outsiders, Japan and Senegal, who can be found at odds of 501.00.
This style of market is usually an interesting one but with America being such clear favourites, and there not being a great deal of value to be found in backing them, proceed with caution when it comes to betting on the outright tournament winner of the 2016 Rio Games Women's Basketball tournament.
Latest Olympic Women's Basketball Futures
League
Future Bet
Team
Best Odds
Sportsbook
Check out the odds of more basketball future bets in our betting guide.
Please toggle your mobile phone into landscape mode to see additional content.
Betting without favourite
With USA being listed as such clear favourites, it is no surprise to see that the Betting without favourite market is going to be of interest to many people. When you remove Team USA, you have a much more even tournament, which means that you can find much better value.
In this market, Australia become favourites and you can back the Aussie women at odds of 2.00. After them come Spain with the Spanish ladies on offer at 4.50 and then France can be found at 8.00. Brazil are the hosts for this tournament and they are listed at 10.00 while Serbia can be backed at 11.00. Canada are on offer at 13.00 while Turkey are able to be backed at 17.00 Belarus can be found at 51.00, China are available at 67.00 and Senegal and Japan are both listed at 151.00.
This is the sort of betting option that gives better value but it also allows for more tactical betting. Study the draw and the perceived route to the final and it may be that one team starts to look the sensible option. Even with USA tearing it up in the actual tournament, opting for the betting without favourite market can give you a whole new perspective on a basketball betting scenario.
To win group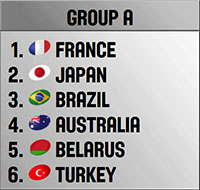 If you are looking for a Futures bet on the Women's tournament at the 2016 Olympic Games but you don't want to look as far ahead as the Medal games, the group stages give you a chance to get involved. With two groups on offer, there will be two group winners, and you have a chance to bet on who will top each group.
For Group A, the favourite is Australia and they can be backed at 2.00 to finish top of the group. Just behind them are France who are listed at 2.85 to clinch top spot in the group. Brazil are available at odds of 6.50 to top the group and Turkey can be found at 7.50. After this there is a massive drop off with Belarus being on offer at 101.00 to top the group and if you fancy Japan to cause a huge upset, you can back them at 501.00 to win their group. This is the same odds for Japan to win the tournament, so if they go on to surprise everyone in Rio, you could make a fortune with two very small bets. It is of course, massively unlikely that this will happen but as is the law this summer, people only need to think of the 5,000 to 1 bet that romped home to take the English Premier League!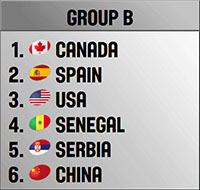 In Group B, it is very likely that USA will clinch the top spot and this means the odds on the American women are 1.010 which isn't a good bet at all. Spain are the most likely to cause an upset and they can be backed at 13.00 while Serbia can be found at 21.00. Canada are listed at 41.00 to top the group and China are classed as 126.00 to be the top team in Group B. The big outsider is Senegal, who are listed at 501.00 to be the winning team in Group A.
Winners Group
An interesting bet that could be of interest to some people is placing a bet on the group that the winner will come from. With only two groups to choose from, you may initially think this is like flipping a coin but of course, this isn't the case. Not all of the teams are equal, and there is a clear favourite for the tournament, which means that their group is the more likely group to provide a winner.
This can be seen in the odds. If you believe the winner of the 2016 Rio Games Women's; Basketball tournament will come from Group A, you can back this at odds of 7.00 but if you think that the winner will hail from Group B, there are odds of 1.090. With clear favourites USA sitting in Group B, you can see why the odds back Group B to provide the eventual winner.
To win medal
Another bet that is of interest during these tournaments is betting on teams to win a medal. The focus is on the Gold Medal, but with Silver and Bronze Medals on offer, there is a lot to play for. You don't want to discourage teams by saying USA are clear favourites to win so they shouldn't bother; you need to convince everyone that every medal option is important.
There would certainly be no shame in any team (apart from the Americans) taking the Silver Medal and this will at least give them a chance of grabbing gold. This is a competitive market and once you get beyond the favourites, you should find some interesting value.
USA are listed at 1.010 to win a medal while Australia can be backed at 1.66. Spain are listed at 2.25 to win a medal and France can be backed at 2.62 to take a medal home. Brazil are listed at 3.50 while Serbia can be found at 3.75 to finish in the top three in Rio. Canada are on offer at 7.00 while Turkey can be backed at 8.00 to grab a medal in Brazil. China are on offer at 41.00, Belarus can also be backed at 41.00 and for an outside bet on the medals, Senegal and Japan can be backed at 101.00.
No matter what sort of basketball bet you want to place, the Rio 2016 Games has you covered with respect to the Women's Basketball tournament.