While sports betting is an extremely serious activity for many people, the Paddy Power site has worked hard to ensures that they offer a touch of fun and humour to players. The site has run a number of TV, print and online adverts that capture the lighter side of life. While there are plenty of great bets on offer on site, you should be able to enjoy entertainment when you play on the Paddy Power site. The company was founded in 1988 when three different bookmarkers in Ireland merged together. The company has a lot of betting shops all across Ireland and the United Kingdom but it is the online site that has become the main focus for many people. The site is regulated by the Isle of Man Gambling Supervision Commission under a licence which was issued under the Online Gambling Regulation Act 2001 in August 2007.
The fact that the site carries out a lot of TV and print promotion means that it is well known by a great number of people but is it a site that is appreciated by the gambling community? The answer appears to be a resounding yes because the site offers a number of big incentives and bonuses for players to play. Whether it is through paying out on a larger number of finishers in sports like horse racing or golf or even providing money back betting offers is a specific incident or outcome occurs during an event, there is always a good reason to get more for your money when you bet with Paddy Power. As you would expect from a site that is focused on the Irish and UK markets, football and horse racing are at the forefront of what Paddy Power offers. However, the site does offer a number of basketball bets which means that basketball fans shouldn't dismiss the site too quickly.
Paddy Power's Choice of Betting Options
At the time of checking, Paddy Power had more than 45 betting options listed on their site. This did include novelty bets, the financial market and political bets but there was a wide range of sports on offer, including many sports that you wouldn't normally find listed on a sports betting site. The fact that there are so many options available on the Paddy Power site is a good incentive to check out what is on offer. The site provides a separate section for their live in-play options but they can also be found under the banner of the individual sport.
A quick look at the basketball section on the Paddy Power site gives you confidence that there is plenty to enjoy here. At the point of checking, the NBA Conference Finals were in full flow and the site had plenty of betting options for the two games. On the day of the game, there were 50 individual bets that could be placed on the Conference Final game, so you'll find more than enough basketball betting options available on Paddy Power. You will also find that there is a lot more to enjoy than just NBA. This is a good thing because some betting sites claim to offer basketball options but then don't venture away from the biggest league in the world. This certainly isn't the case with Paddy Power.
The site offers a full range of European and Other basketball coupons including games at an Under-19 level. The fact that Paddy Power caters for junior basketball games and tournaments ensures this is a site that basketball lovers will be able to enjoy on a regular basis. With close to 50 different types of bets available in the live in-play betting options for these Under 19 games, basketball fans are not going to be short of options for this site. The site also offers spate handicap listings for basketball games, given you even more options.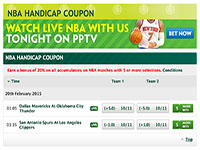 The site also runs a number of futures betting options. For the NBA you can bet on who will win the Championship, who will win the Conference finals, who will be the Championship MVP and a number of individual series events for the Conference Finals. European leagues that Paddy Power offers futures betting options for include the Austrian Bundesliga, Croatian A1, Czech NBL, French ProA, German BBL, Italian Serie A, Israeli BSL and the VTB United League. Other leagues will also be offered during their season so if you love European basketball, this is a betting site that will help you find brilliant bets on all of your favourite teams and players.
Paddy Power is not the best known site for streaming live sporting events but they do stream some sports and you'll be glad to know that they stream a number of European basketball games. The site was also able to show you the NBA Play-Off games which is definitely a major thing for most basketball fans. This should provide you with all the incentive you need to sign up for an account with Paddy Power but there are plenty of incentives to be found, especially if you are a big fan of basketball and betting.
Basketball Betting Odds and Lines
The sportsbooks have not released their odds yet. Please come back at a later moment.
Please toggle your mobile phone into landscape mode to see additional content.
Parlay Betting
Whether you are familiar with the term Parlay Betting or you prefer to use the more British and Irish term of accumulator, the Paddy Power site has you covered. This is a bet where you choose a number of outcomes and you are only successful if all of your bets come off. The returns from a Parlay bet are better than sticking individual bets on but obviously the risk is higher. Not every basketball fan wants to place Parlay bets but there are plenty of fans that do take the opportunity to bet in this manner. If you are keen to make the most of the betting opportunities on offer, Parlay Betting is an option that Paddy Power provides you with.
The Paddy Power Bonus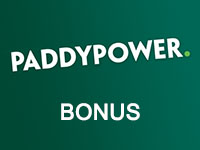 At the moment, the Paddy Power site isn't giving you a standard bonus for signing up to the site. The site is giving new players certain odds on up-coming events, such as odds of 100/1 for England to win the World Cup in Brazil in July but there is no specific bonus for new players. However, this changes on a regular basis and it is likely that by the time you check out the Paddy Power site there will be something available for players. This is why it is important to check out the site on a regular basis.
Setting up a Paddy Power Account
When you arrive at the Paddy Power home page, near the top there is a login or register section at the top of the screen. If you are looking to register as a new user, click on the link asking you to do so. This takes you to a secure page where you provide your personal details. This is where you will select a username and password to gain access to the site.
Funding your Paddy Power Account
There are plenty of ways to deposit funds into your Paddy Power account. Users can deposit funds with £ or € so you can deposit funds in the manner you feel most comfortable about.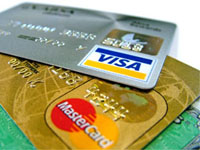 The site accepts deposits from the following methods:
Cheque
Entropay
Maestro debit cards
MasterCard
Neteller
PayByMobile
PayPal
Paysafecard
Skrill
Transfer
Ukash
VISA cards
The minimum deposit amount at one time is £/€5 while the minimum withdrawal is £/€10. The deposit happens instantly while withdrawals usually take around 2 to 3 working days.
Paddy Power offers withdrawals to the following methods:
Cheque
Entropay
Maestro debit cards
MasterCard
Neteller
PayByMobile
PayPal
Skrill
Transfer
Ukash
VISA cards
Paddy Power is Most Suitable For:
Sports fans and fans of live betting
People with a sense of humour
Basketball fans looking for a great range of options
Anyone looking for a wide range of deposit and withdrawal options
Anyone looking for a safe and reliable sports betting site
The Paddy Power site is one that offers a huge range of betting activities for players and you should find that basketball fans have every reason and incentive to check out what the site has to offer.